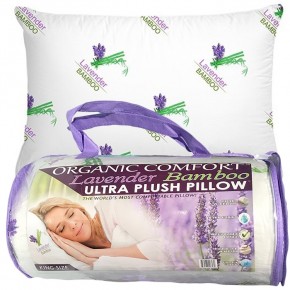 LAVENDER BAMBOO PILLOW
SKU:
PRODUCT: BAMBOO PILLOW KING OR QUEEN SIZES. Our Pillows are made to conform and cradle your head and neck, helping to relieve most common sleeping problems such as tension and stiffness. Promoting a more comfortable and a better night sleep.
These quality pillows have an estimated life span of up to 10 years, they are dust mite resistant and the removable cover is machine washable! We believe our pillows are the most comfortable pillows on the planet!
Designed to keep you comfortable while you sleep! They conform to your head and neck promoting an incredible night of sleep. Our customers have told us with your head and neck properly supported this will help to prevent common disorders such as: TMJ, neck stiffness, asthma, snoring, insomnia and migraines!
​​​